Quality Roofers: Long Island Roofing
Long Island Roofing Services: Residential Roofing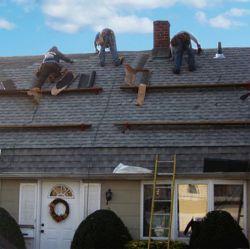 When it comes to residential roofing services, Long Island Roofing is the company to trust. Since 1989, we've been repairing, restoring and replacing roofs for residential customers throughout the area. And Long Island Roofing is one of the first hand selected and oldest GAF MASTER ELITE roofing contractors. Your home is your number one investment, and your investment isn't safe when the roof isn't in good shape. Whether your roof needs repairs or you'd like to upgrade to a new roofing system, Long Island Roofing can help.
Long Island Roofing relies on quality-assured construction methods to ensure the durability, quality and longevity of the roofs we repair and install. We take the same proven, methodical approach with jobs of all sizes and scopes. Our team is made up of highly skilled, extensively experienced roofers who never settle for less. The quality of our craftsmanship is unparalleled and results in long-lasting repairs and replacements every time.
Roof repairs can seem pretty daunting. That's true whether you suddenly experience a roof-related emergency or slowly begin to suspect that your roof needs some work. In either case, Long Island Roofing is ready to assist you. We offer 24/7 emergency roof repairs. Our team can temporarily tarp your roof to prevent further damage and then perform the necessary repairs. Whether the situation crops up in the middle of the night or is less urgent, you can count on us.
Every homeowner dreads finding out that their roof needs to be replaced. Long Island Roofing won't mince words with you. Our top priority is to ensure that our customers have high-quality roofs over their heads. If repairs won't do the trick, we'll advise you to replace your roof. This may be stressful, but our team will work to make it as easy and affordable as possible. There have been major advancements in roof technology, so your new roof is sure to be superior to the old one.
Whatever roofing services you need, you can rest assured that Long Island Roofing will show up on time. Our team will be courteous, friendly and professional every step of the way. Thanks to our reliance on high-quality materials and our insistence on impeccable craftsmanship, you're guaranteed to get exceptional results no matter what.