Affordable Roofers: Long Island Roofing
Long Island Roofing Services: Gutters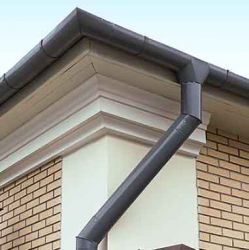 Gutters perform a very important function when it comes to maintaining a home by channeling water away from the roof. Without gutters, rainwater would pool up along the edges and crevices of a roof and slowly but surely cause serious, irreparable damage. Simply having gutters isn't enough. They need to be clean to effectively route water away from the roof. Whether your gutters need to be cleaned or repaired or you're in the market for new ones, Long Island Roofing can help.
Many homeowners fail to realize how often they need to clean their gutters. In the fall, this work should be done at least twice. If your property has a lot of trees, you may need to do it even more often. You should also clean the gutters at least once during the spring or summer.
Cleaning gutters involves getting up on a tall ladder, which can be very dangerous. The professionals at Long Island Roofing do this work all the time and know how to get it done in the safest way possible. Why deal with the hassle and risk of cleaning your own gutters when you can hire us instead? With our affordable rates, this is an excellent, practical way to protect your roof.
What happens if your gutters become damaged? Sometimes, they can be repaired. Our team will assess your gutters and let you know if a repair is possible. If so, they can usually complete the work on the spot. At a certain point, though, some gutters just can't be repaired. You might also want to replace yours just so you can upgrade to a better model. Long Island Roofing is happy to handle that for you.
At Long Island Roofing, we provide top-quality seamless gutters in a variety of colors. They have smooth, attractive finishes and are made out of first-rate Alcoa aluminum. Anti-corrosive components ensure exceptional longevity. Because they are seamless, they don't leak. Our team will bring along a roll-forming machine to customize your gutters so that they are absolutely perfect. All components are included, so there are never any surprises in terms of price.