Affordable Roofers: Long Island Roofing
Long Island Roofing Services: Commercial Roofing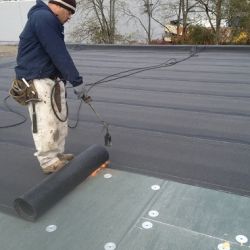 There are many ways to install a commercial roof on a place of business, so it's important to choose a specific product that fits one's needs. While factory-manufactured, single-ply roofing is a common choice for modern energy-efficient installations, other variants such as modified bitumen roofing may be more appropriate for angled roofs and older buildings. Here are some basics on how we help professionals select roofing options for their establishments and get them securely installed.
Every commercial roof installation begins with an in-depth assessment of the target facilities. By paying close attention to the geographic positioning of different edifices and accounting for the construction methods they employ, we're able to select a durable option that will survive weather-driven thermal expansion and mechanical stresses yet still fit your building with exacting precision.
This planning stage also helps building owners stay within budget during their roofing projects and ongoing maintenance. For instance, single-ply materials like thermoplastic, or TPO, and ethylene propylene diene monomer, or EDPM, can be manufactured with different heat-transfer characteristics and reflectivity profiles, making it possible to select a cost-conscious installation option that also keeps energy costs down in the long run.
Installation times vary based on the type of roofing being installed, the size of the building and the slope of the installation. The presence of old roofing material also plays a role. For instance, existing torch-down material may require significant labor to remove with a heated torch.
Business consumers whose current roofing is intact may consider less-expensive options such as simply installing new single-ply treatments over the old base material after removing the upper layers. This is a great way to minimize costs and lead time while maintaining a functional existing weather barrier. After the base sheet has been exposed, the new roofing is attached in sections using mechanical fasteners, industrial adhesives or heat application.
We're dedicated to seeing your installation or repair through regardless how you choose to go about it. The comprehensive approach we employ lets you exercise full control over the nature of the roofing used on your building while taking advantage of decades of industry experience. Our intimate familiarity with Energy Star Rated Systems and leading application methods has improved operating standards at numerous municipal and commercial buildings on Long Island and in the surrounding areas.